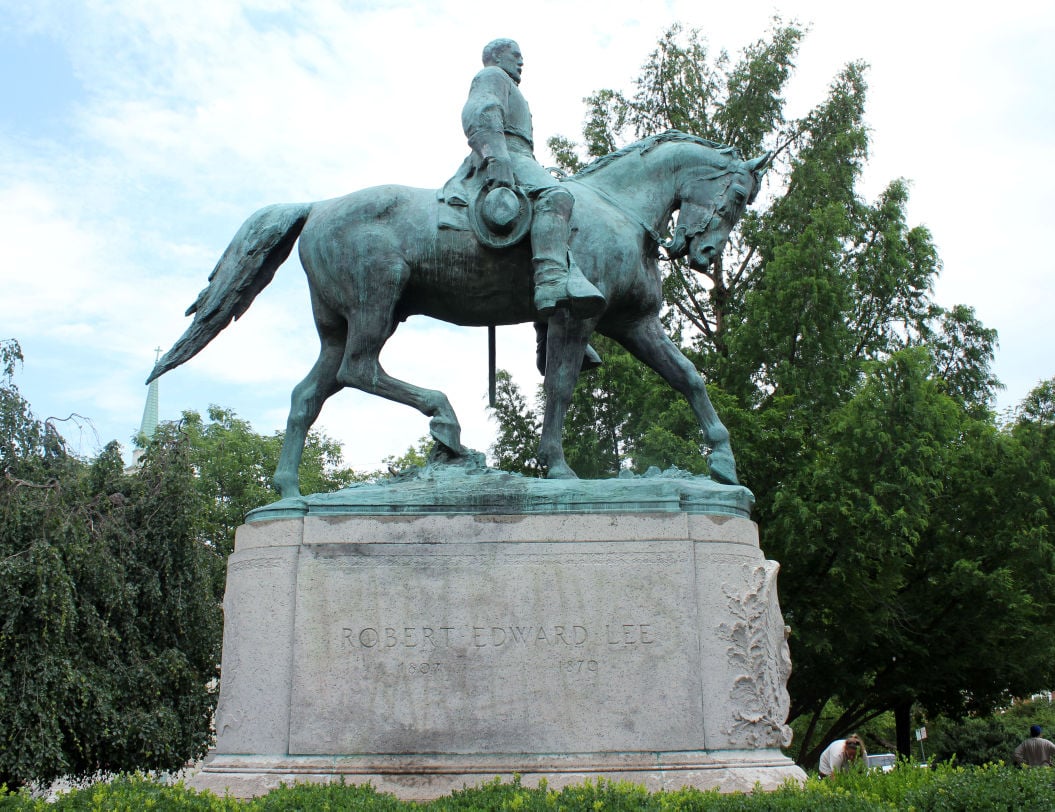 So apparently tearing down statues of historical figures with controversial pasts is in vogue now. In case you haven't heard, the secular cleansing has caused quite the stir. This latest uproar was caused by the removal of a General Robert E. Lee statue in Virginia. Lee, of course, was the greatest general of the Civil War who led the Conferderate Army, who also owned slaves. As we all know, since slavery is wicked, slave owners must be evil to their core. And according to secular logic, any statue or historic artifact or marker recognizing a slave owner must be torn down.
To say this stirred the natives would be an understatement. Before long, Charlotsville civilians grabbed their torch and pitchforks and went to the streets. The scene was nothing short of wicked however you slice it. Once the Nazi's show up in common cause of your protest, it is time to go home and reevaluate your values.
Since then, however, the move to tear down statues has only increased. In the heat of the protests, the mayor of Louisville (not far from where I live) ordered the city to evaluate their historical markers with the intention of removing all slave owners from their city. Years ago they did just that with one statue which now resides on the edge of the Ohio River in nearby Brandenburg.  The immediate problem with the mayor's policy should be obvious. The city is after King Louis VVI of France who was no abolitionist. Must the name of the city be damned too?
Other statues are threatened too. Demonstrators in Detroit are protesting a Christopher Columbus bust because he, as the narrative goes, committed genocide against the Native Americans. Interestingly, the linked article notes:
Organizers said they were unaware of any Confederate monuments in the city, so were focusing on memorials to other historical figures tied to a white supremacy mind-set.
There is. When your a hammer, everything is a nail.
Kansas City is removing one confederate monument. Just before its excommunication, it was vandalized forcing the city to box it up. Lexington, KY is "relocating" statues of John Hunt Morgan and John C. Brackenridge. There is also much hubub about removing Jefferson Davis from the Kentucky capital retunda where he, Abraham Lincoln, and the "Great Compromiser," Henry Clay hang out. New York is removing busts of both Robert E. Lee and Stonewall Jackson. Other memorials in numerous states have either been removed in recent years or are at threat.
Most delicious, however, comes from Al Shapen who believes that tax dollars should not go for the upkeep of the Thomas Jefferson memorial in Washington DC. The irony is that Sharpen owes millions of dollars in back taxes.
This leads to the natural question, what should we think about all of this? The logic is simple. Slavery is the original sin of America and it seems reasonable that any hope of healing from the evil of slavery should include never glorifying those who have profited from the use and trade of slaves. Yet at the same time, outside of the obvious loons and wicked souls soluting Hitler at the foot of these statutes, most understand these individuals were flawed and slavery is wicked, yet they still played an important role in American history.
Let us ask this basic question: can we honor imperfect, flawed individuals who reflected their times? If the answer is no (and progressives increasingly do not want us to), then let there be no statutes nor any building or streets named after any historical figures. There is no one in history worthy of progressive venuration by this unreasonable secular pharaisaical expectation.
Consider the evidence. In 2016, Princton chose to remove a number of Woodrow Wilson memorbilia due to his racist stances and policies. The irony, of course, is that Wilson served both as the President of the United States during World War I and has been viewed as a progressive icon. He also served as the thirteenth president of Princeton University. He remains as the only Ph.D to occupy the White House. Yet due to his clear racist stances, he must be torn down.
Or consider someone like Abraham Lincoln. Though largely beloved by most Americans, he was no saint. He might have saved the Union, but Lincoln and his bereaved wife held multiple seances in the White Houses. Also  consider the following from the great emancipator from his 4th debate with Douglas:
While I was at the hotel to-day, an elderly gentleman called upon me to know whether I was really in favor of producing a perfect equality between the negroes and white people. [Great Laughter.] While I had not proposed to myself on this occasion to say much on that subject, yet as the question was asked me I thought I would occupy perhaps five minutes in saying something in regard to it. I will say then that I am not, nor ever have been, in favor of bringing about in any way the social and political equality of the white and black races, [applause]-that I am not nor ever have been in favor of making voters or jurors of negroes, nor of qualifying them to hold office, nor to intermarry with white people; and I will say in addition to this that there is a physical difference between the white and black races which I believe will forever forbid the two races living together on terms of social and political equality. And inasmuch as they cannot so live, while they do remain together there must be the position of superior and inferior, and I as much as any other man am in favor of having the superior position assigned to the white race. I say upon this occasion I do not perceive that because the white man is to have the superior position the negro should be denied every thing. I do not understand that because I do not want a negro woman for a slave I must necessarily want her for a wife. [Cheers and laughter.] My understanding is that I can just let her alone. I am now in my fiftieth year, and I certainly never have had a black woman for either a slave or a wife. So it seems to me quite possible for us to get along without making either slaves or wives of negroes. I will add to this that I have never seen, to my knowledge, a man, woman or child who was in favor of producing a perfect equality, social and political, between negroes and white men. … I will also add to the remarks I have made (for I am not going to enter at large upon this subject,) that I have never had the least apprehension that I or my friends would marry negroes if there was no law to keep them from it, [laughter] but as Judge Douglas and his friends seem to be in great apprehension that they might, if there were no law to keep them from it, [roars of laughter] I give him the most solemn pledge that I will to the very last stand by the law of this State, which forbids the marrying of white people with negroes. [Continued laughter and applause.]" (emphasis mine)
Grab your torch and pitchforks college kids.
What about Martin Luther King, Jr. who bravely fought for civil rights and is rightly considered an American hero? The martyred Baptist pastor was certainly no saint. He was a serial womanizer and adulterer. In an ironic scene, President John F. Kennedy told MLK he would join him in his fight for civil rights but first he must cease fornicating. Please disregard JFK's affairs.
George Washington owned slaves. So . . . there goes Washington D. C.? Elvis Pressley was a drug addict. Joseph Smith was . . .well, where do I begin. Or what about Theodore Roosevelt who was anything but a saint? Should we tear down Mount Rushmore now?
Is it not possible to honor someone with an understanding that this individual was flawed and held views morally repugnant? Let us not forget that we are standing on their shoulders able to see the world more clearly. Though Lincoln was flawed, we live in a nation without slavery. Though King was sexually broken, civil rights was a just fight. And though Washington, Jefferson, and many of the founding fathers participated in a wicked institution, they established a nation rooted in the fundamental belief that all people were created by God with equal rights. It is that American creed that allowed both Lincoln and King (sinners themselves) to stand before the American people and promote equal justice regardless of race and nationality. Our righteous anger slavery and racism is an inherited anger forged by generations of work by men and women who have gone before us all of who were imperfect souls.
The self-righteous tearing down of statues does concern me. Although it might be too strong to say it is an erasing of history, it is a sanitation of it. The chronological snobbery of postmodern secularism will soon make the French blush. We are at the point where the humanists have already torn every institution down, they are turning to our memorials. Hard telling where they will turn to next.
It also misses another important point. The Sadduccees demanding these statues be removed do so with their phylacteries ever present for the world to see. They are no saints and the new, secular-approved statues that